Saturday, September 21
2:00PM - 5:30PM
College of Marin
700 College Ave, Kentfield
(parking lot near gym/pool)
Free community event
Join the Pack!
More dogs are driving electric because they're better for their people, their planet, and their budget.
Join us at Drive Clean Marin's free electric vehicle and e-bike test drive event and learn more about our new EV group purchase discount program offering deep savings on select electric vehicles. We are thrilled to announce we have partnered with Cartelligent to organize the group purchase. Attendees will receive priority placement for buying/leasing vehicles through the group purchase. By attending and signing up there is no obligation whatsoever. There will be a variety of electric vehicles and e-bikes available to check out.
Driving a gas car is 50% of your carbon footprint, so switching to an electric really matters. Come learn more about the many benefits of driving electric.
EV's are ready for you. Plug in. Feel good. Woof!
Join Drive Clean Marin at San Anselmo's Country Fair Day parade! We'll have San Anselmo electric vehicle drivers showcasing a variety of cool electric vehicles and an information booth where you can learn more about the many awesome reasons to switch to electric. If you are a San Anselmo resident already driving electric and you'd like to join the fun as a volunteer email us at info@drivecleanmarin.org.
Check out our Past Events:
Green Meetup on Transportation

Drive Clean Marin joined in a community discussion on July 23 in Mill Valley, hosted by Fabrice Florin and Green Change about how to ride clean vehicles, use public transit, drive less and walk or bike more.

Guest speakers included:
Stephanie Moulton-Peters - Transportation Authority of Marin
Carleen Cullen - Drive Clean Marin
Karen Wiener - The New Wheel



Conservation Night, July 18th, at the MAGC Summer Concert Series included local conservation groups from throughout Marin sharing expertise with hands-on exhibits for kids and information for adults. Drive Clean Marin was there with cool electric vehicles for everyone to see.
June 24th - A Community Conversation on Climate Action
Facilitated by 350marin and Sustainable Fairfax, 7-8pm, 6:45pm refreshments, at Fairfax library 2097 Sir Francis Drake Blvd. Along with members of Drawdown Marin, MCE, and Cool the Earth, we will discuss how you can take climate action by plugging in to deep green. Annika Osborn of Cool the Earth will share the vision of the Drive Clean Marin campaign to help in the fight against climate change. This event is free and open to all, please join us!
July 4th Parades
Join Drive Clean Marin in participating in two 4th of July parades! We'll have volunteers driving a variety of cool electric vehicles in both the Novato and Larkspur/Corte Madera parades. If you'd like to join the fun as a volunteer driver or walker, email us at info@drivecleanmarin.org.
Novato parade - 10am - 12Noon, downtown Novato, theme: Out of this World
Larkspur/Corte Madera parade - starts at 10:30 at Redwood High School, theme: Stars and Stripes
Community Electric Vehicle Test Drive Event
Thank you to all who were able to attend our Community Electric Vehicle Test Drive event on April 28, 2019 at College of Marin. It was great to see so many curious and enthusiastic people checking out a variety of EVs on the market. If you missed this event and are interested in joining our next event, please complete the form below.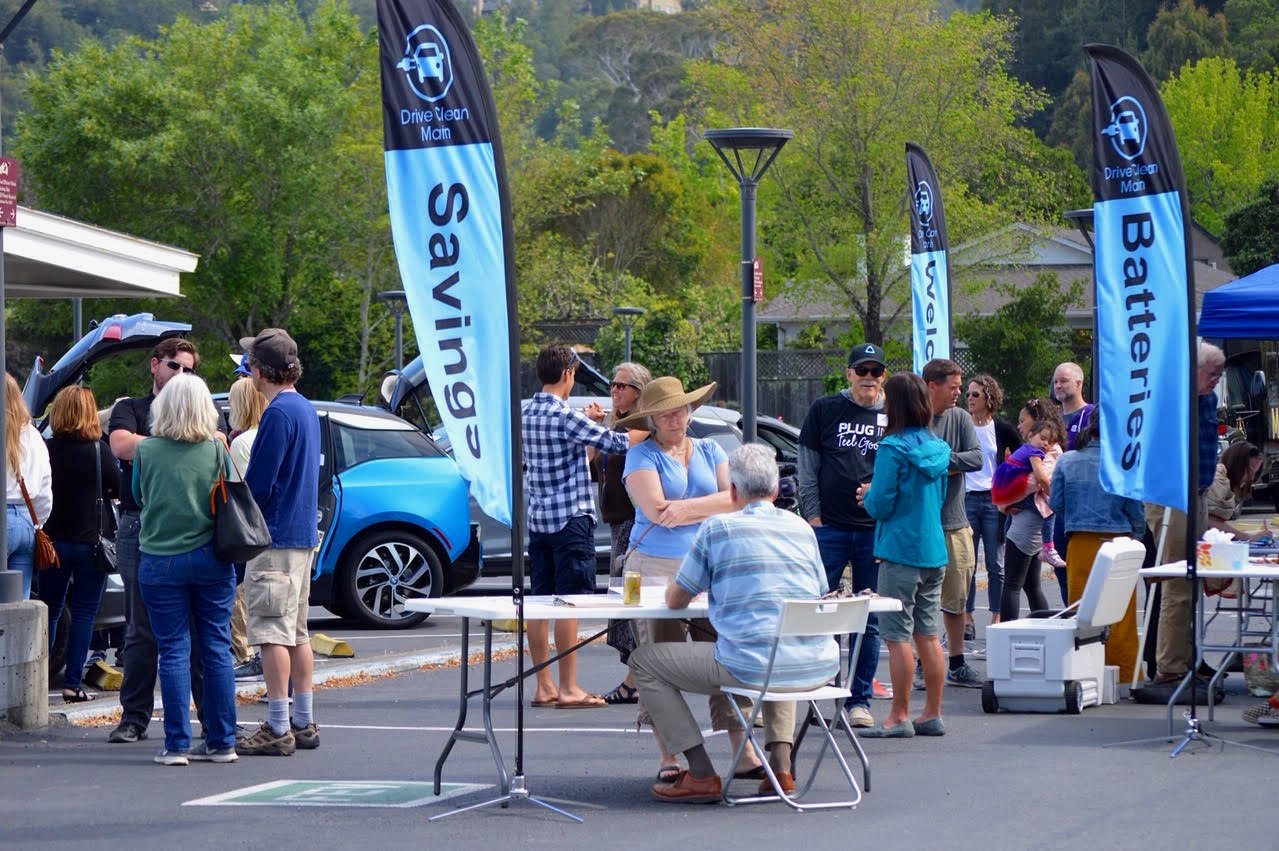 Join us for Future Events:
Attend a Free EV Experience Event
Skip the car dealer and attend one of our fun and free EV Experience events. Mingle with friends and neighbors and learn about today's EVs.
Mingle with friends and neighbors and learn about today's EVs. Explore a variety of EVs, hear from other EV drivers and maybe even take a test drive. We'll share invaluable information on best lease deals, range, charging and more.
Interested in hosting an event? Email us at: info@drivecleanmarin.org